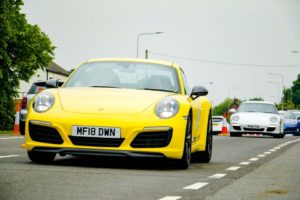 Hand held Mobile phones when driving – the law
With a report from the RAC today announcing that six in ten drivers don't know the penalties for mobile phone use when driving, we thought it may be an opportune moment to explain the law.
The Law
In order to fully understand the correct legal position, the best starting place is the actual legislation that creates the offence.  It will be seen that the offence can be committed a number of ways and can even be committed by a vehicle passenger if they cause or permit the driver to use a mobile phone whilst driving (for example, by holding a mobile phone for a driver).
Section 41D Road Traffic Act 1988 says this:
Breach of requirements as to control of vehicle, mobile telephones etc.
A person who contravenes or fails to comply with a construction and use requirement—
(a) as to not driving a motor vehicle in a position which does not give proper control or a full view of the road and traffic ahead, or not causing or permitting the driving of a motor vehicle by another person in such a position, or
(b) as to not driving or supervising the driving of a motor vehicle while using a hand-held mobile telephone or other hand-held interactive communication device, or not causing or permitting the driving of a motor vehicle by another person using such a telephone or other device,
is guilty of an offence
Penalties
Some drivers will be eligible for a fixed penalty from the police.  That fixed penalty is £200 and 6 penalty points will be endorsed on their driving licence.
Anyone with 6 or more penalty points on their licence will not be eligible for a fixed penalty as they will be at risk of a minimum 6 month disqualification from driving under what are known as the totting up provisions.  A Court hearing will be necessary.  Once at Court, the fixed penalty regime no longer applies and whilst the Magistrates will still impose 6 penalty points, the financial cost will be much greater.
Prosecution costs are typically £85 for a guilty plea and the mandatory victim surcharge is £30 or 10% of the fine, whichever is higher. The guideline starting point for a fine is 50% of your relevant weekly income with a range of 25% to 75%.  For someone on the current UK average wage of £27600, that is a guideline start point of £328, a notable increase on the fixed penalty figure.  And that's before you count the cost of not being able to drive for at least six months.
For drivers caught under the "new driver" provisions who have passed their driving test in the last two years, acceptance of a fixed penalty will lead not to a Court hearing but to the DVLA simply revoking your entitlement to drive at all.  Your driving licence will revert to provisional status, you will only be able to drive in a vehicle displaying "L plates" and with a supervising driver until you pass your driving test again.
Professional drivers with additional licences may find themselves before the Traffic Commissioner if convicted of driving whilst using a mobile phone and their additional driving entitlements can be lost.
How long do points last for?
Endorsements on driving licences are relevant for totting up purposes for a 3 year period which runs from offence date to offence date.  Insurance companies generally seek disclosure of points accumulated in the previous 5 years.
How can Kellocks help?
If you have been caught using a hand held offence and are guilty of the offence, we would advise you to accept the offer of a fixed penalty if eligible.  This would be highly likely to be the cheapest solution for you.
Identification errors can be made and we have successfully defended matters of this nature at trial.
Should your driving licence be at risk, we can provide expert court representation and have a very strong track record in avoiding driving disqualifications for clients who would otherwise be at risk.  Legal aid is not generally available for this type of offence but if your livelihood is at risk and you are financially eligible, an application can be made on your behalf which, if successful, would lead to representation being provided at no cost to you at all.  Our private fees are surprisingly modest compared to some of the big City specialists whose high overheads impact on what you have to pay.  For us to submit mitigation on your behalf at a North West Court to avoid a driving disqualification, our typical fixed fee would be in the region of £500 + VAT.  How much do you value your driving licence?
We are always happy to offer initial telephone advice at no cost and will give you straight advice as to whether or not it would be cost effective to instruct us.